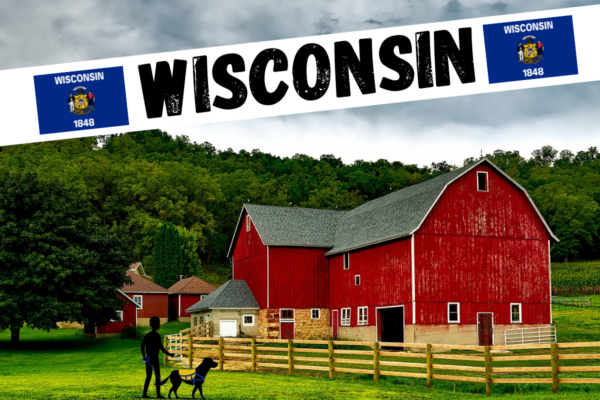 Wisconsin has long been a crucible of American politics. It remains so now.
It's where two once-powerful senators, Joseph McCarthy and Robert La Follette, defined two of the major themes we still see playing out today — what the historian Richard Hofstadter called the "paranoid style," in McCarthy's case, and progressivism in La Follette's.
It's a place that has also proved time and again that elections have consequences. McCarthy won his Senate seat in the 1946 midterms amid a backlash against President Harry Truman, who was struggling to control the soaring price of meat as the country adjusted to a peacetime economy. He ousted Robert La Follette Jr., who had essentially inherited his father's Senate seat.
Four years later, McCarthy used his new platform to begin his infamous anti-communist crusade — persecuting supposed communists inside the federal government, Hollywood and the liberal intelligentsia across the country. His rise came to an end after a lawyer for one of his targets, Joseph Welch, rounded on him with one of the most famous lines ever delivered during a congressional hearing: "Have you no sense of decency, sir, at long last?"
The state's modern political geography, which is rooted in this history, as well as deep-seated patterns of ethnic migration and economic development, is as fascinating as it is complex.
La Follette's old base in Madison, the capital and a teeming college town, dominates the middle south of the state like a kind of Midwestern Berkeley. But unlike in periwinkle-blue coastal California, Madison and Milwaukee — the state's largest city, which is about 90 minutes to the east along the shores of Lake Michigan — are surrounded by a vast ocean of scarlet.
Much of the state remains rural and conservative — McCarthy and Trump country.
And as in much of the United States, even smaller Wisconsin cities like Green Bay (the home of the Packers), Eau Claire (a fiercely contested political battleground), Janesville (the home of Paul Ryan, the former House speaker), Kenosha (the hometown of Reince Priebus, the sometime ally and former aide to Donald Trump) and Oshkosh (the home and political base of Senator Ron Johnson) have gone blue in recent decades.
The so-called W.O.W. counties around Milwaukee — Waukesha, Ozaukee and Washington — are the historical strongholds of suburban G.O.P. power, and political pundits and forecasters watch election trends there closely to tease out any potential national implications. Other portions of the northwestern area of the state are essentially suburbs of Minneapolis, and tend to toggle between the parties from election to election.
The Republican Party's origins can be traced to Ripon, Wis., where disaffected members of the Whig Party met in 1854 as they planned a new party with an anti-slavery platform. The party's early leaders were also disgusted by what they called the "tyranny" of Andrew Jackson, a populist Democrat who built a political machine that ran roughshod over the traditional ways politics was done in America.
On Tuesday, the state held its primaries, and the results were classic Wisconsin: Republicans chose Tim Michels, a Trump-aligned "Stop-the-Steal" guy, as their nominee to face Gov. Tony Evers, the Democratic incumbent, over Rebecca Kleefisch, the establishment favorite. Robin Vos, the Assembly speaker who has tilted to the right on election issues but who refused to help Trump overturn the results of the 2020 presidential election, barely held on to his seat.
To understand what's happening, I badgered Reid Epstein, my colleague on the politics team. Reid has forgotten more Wisconsin political lore than most of us have ever absorbed, and here, he gives us some perspective on why the state has become such a bitterly contested ground zero for American democracy.
Our conversation, lightly edited for length and clarity:
You started your journalism career in Milwaukee, if I'm not mistaken. Give us a sense of what's changed about Wisconsin politics in the years you've been covering the state.
In Waukesha, actually. Back in 2002, The Milwaukee Journal Sentinel still had bureaus covering the Milwaukee suburbs, and that's where I had my first job, covering a handful of municipalities and school districts in Waukesha County.
A lot of the same characters I wrote about as a cub reporter are still around. The then-village president of Menomonee Falls is now leading the effort to decertify Wisconsin's 2020 election results, which of course can't be done. The seeds of the polarization and zero-sum politics you see now in Wisconsin were just beginning to sprout 20 years ago.
Republican voters chose to keep Robin Vos, yet nominated Tim Michels. Help us understand the mixed signals we're getting here.
Well, it helped that Michels had more than $10 million of his own cash to invest in his race, and Adam Steen, the Trump-backed challenger to Vos, didn't have enough money for even one paid staff member.
Vos, whose first legislative race I was there for in 2004, nearly lost to a guy with no money and no name recognition in a district where the Vos family has lived for generations. He won, but it was very close.
source: https://www.nytimes.com/